Ampon Kittiampon, secretary-general of the cabinet, said the Council of State would subsequently vet the law and forward it to the National Legislative Assembly to be enacted.
The tax applies to land, buildings and condominium units and will be collected and used by local administrations — municipalities at the tambon, city and provincial levels, as well as tambon administrative organisations, Bangkok Metropolitan Administration and Pattaya administration.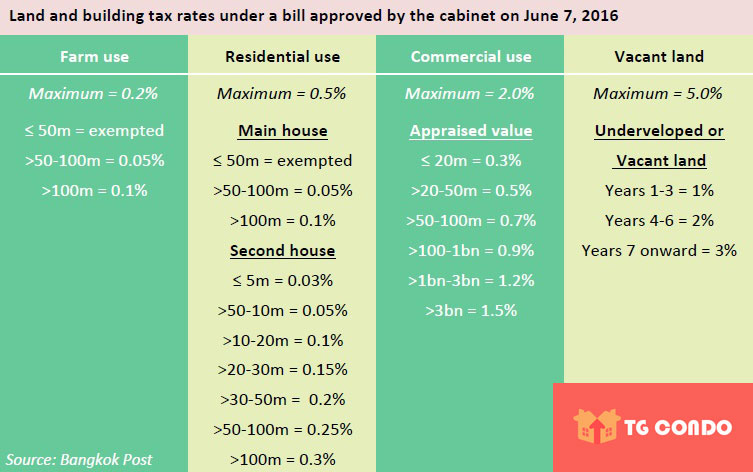 The maximum tax rates are: 0.2% of appraisal value for farm land; 0.5% for residential use; and 2% for other use including commercial and industrial purposes. For undeveloped land, the maximum rate of 5% will apply in the first three years, to double over the next three years.
The tax will be levied only on homes and land used for agriculture with the appraised price starting from 50 million baht and will be taxed on the amount exceeding 50 million baht. That means owners of homes and farms with appraisal price below 50 million baht will free from the tax liability.
However, the actual rates to be collected would be announced in the royal decree. They will be progressive rates based on appraisal value (see chart)